CNYC Meeting Archive – Year 2017
Chipping Norton Yacht Club AGM talks 2017
Danish Greeks and Frisian riddles
First up was Barnaby Scott - B's talk was
entitled "Ελένη- a boat for Greece"  - and he started by telling us of his love of  traditional Greek fishing boats, Caiques (Καΐκια), that he'd so admired when sailing in Greek waters. These colourful and elegant vessels are under threat from an EU regulation that demands, if the fisherman takes the de-commissioning money, in the interest of fish conservation, that the boat be actually destroyed. What few remained have been converted into mammoth-engined motor-boats, been given nasty superstructures, and lost all character. Shame. Gloom.
Fast forward. B spots an ad for a Greek sponge boat (a trehandiri), amateur-built in Demark, and sets off to Faaborg, Denmark, in November 2015, to view. The boat has been beautifully constructed, and cared-for as a first owner and builder often will. She performed well on a sea trial. There is a snag. The hull is spot-on, but the Bermudian cutter rig, which would be fine on a modern hull really doesn't suit this heavily built bowspritted double-ender. The builder had toyed with the idea of a Sakoleva rig (a hybrid between a curtain rail and a sprit) but had chickened out. B then consulted James Lawrence Sailmakers who designed a new gaff rig for her. So a price was negotiated for the boat, decision made, survey organised, and the deal done. Administration (Købskontrakt, VAT, Radio (MMSI & ATIS), UK Registration and insurance) was navigated successfully so that just left a passage, in an unknown boat, all the way from Denmark to Essex to worry about.
Leaving Faaborg Fjoord in June 2016, with some trepidation, B and his two young crew had in the event a textbook passage, motoring the length of the Kiel canal to Brunsbüttel, across the mouth of the Elbe to then gather their courage in Cuxhaven, before the challenge of the Frisians, which was, in the event, easy going. Dodging into the Ijsselmeer at Harlingen with the intent to traverse the Iisselmeer and take the North Sea canal to Ijmuiden before skipping across the North Sea to Harwich the very poor weather forecast forced a change of plan: to motor through the Netherlands by canal and let the storm go, and leave from the south (Vlissingen) for the shorter passage across to Harwich. Lots of motoring, some good restaurants on the way, but a good decision and an easy North Sea crossing. Well done, Barny!
Second up was David Oakley, who is a songwriter and guitarist as well as a sailor. He had brought his guitar (as requested, as we've heard him play before) and he topped and tailed his talk (with an encore, natch) with fine melodies and apt lyrics delivered with his usual panache.
So to the talk - "Riddle of the Sands Cruise". David is a member of the Drascombe Association and, with Helen, had joined a cruise of the Frisian Islands organised by fellow Drascombe enthusiasts. Trailing the boat from Chipping Norton to the northern coast of the Netherlands, with a night stop camping in the boat on its trailer, they launched in the Lawsersmeer which borders the Wadden Sea - Riddle of the Sands territory. Locks (some busy, some opened just for them) were successfully tackled, expanses of drying sandbanks navigated through, and little towns explored. His pictures were a balance of sand and mud, and sea, which summed up the area to a T. We were shown their Drascombe creaming along, with boom-less gunter main and leg o'mutton mizzen set nicely and pulling well; we saw a line of Drascombes sitting in the mud along a harbour wall, with a trickle of water bounded by withies disappearing into the distance. Evocative stuff - at the other end of the spectrum from the deep waters of our South Coast, or of their Atlantic crossing to Brazil and back that David and Helen had told us about previously. That's the thing about being on the water. Never the same...
David wrote up this trip for the Drascombe Association magazine and has kindly agreed to share it with us – download here.
Mad About the Isles - a Scottish Passion
Vice Commodore Chris Adams started his
talk by proposing to us some guiding principles for sailing in the wild waters of Western Scotland. These principles might, on reflection, be seen as being equally relevant to sailing in general, and perhaps even to life as a whole. So what was he suggesting? Stop when you are somewhere nice, and enjoy the moment. Don't hurry. Make good plans, but only stick to them if they remain truly the best option, which as often as not they may not be. Be opportunistically self-sufficient. Ride the tides. Find really good shelter when circumstances demand. Have decent ground tackle you can trust. (OK those last three are about sailing, not life in general, but stick with this - allegorically they work just fine in a wider context.) Chris has perhaps invented a new religion, or perhaps he was defining Zen (remembering, though, that the Zen that can be defined is not the true Zen).
Chris confesses his passion for this home cruising ground of his - the Isles of Scotland. This is a magical area he first came across when backpacking and ferrying around them as a teenager. There are 790 offshore islands, zillions (his word) of little isles and skerries, and 10,000 miles of coastline (three times that of England). This is a playground for (intrepid?) yachtsmen par excellence.
Chris' adopted a thematic structure, rather than, as is more usual, following the chronology of a cruise. This was refreshing and worked well - allowing him to range much more widely over the many aspects of this area that make it so special, and to show us more of his photographs, which were of professional standard. (What do I mean by this? It is mostly about light…) It was unsurprising that one of his pictures had won this year's Christmas photo competition. Themes covered beaches, brochs (odd, probably iron age, defensive towers found only in Scotland), churches, abbeys and tombs, castles, birds, beasties (not fauna, note), boats, lighthouses, distilleries, and ferries. Each theme comprised a series of photographs, accompanied by a piece of traditional music (listed below) to help draw us emotionally into this wild world. We heard something of the history, culture, and architecture. We admired the beauty of the sea, sky, mountains, lochs, estuaries and isles. We shared Chris' journey of discovery, and his enthusiasm was infectious.
But Chris also told us about a few actual passages, passages that stuck in his mind as exceptionally good days, and that served to illustrate the application of the principles he had proposed. They gave us a flavour for sailing these waters, reading tides and weather, finding remote anchorages, walking and exploring ashore. Several passages had had their destinations revised (in accordance with one of the aforementioned "principles"). Each featured something special to illustrate the variety of these waters, including an "awesome" anchorage, and the Gulf of Corryvreckan whirlpool in a narrow strait between the islands of Jura and Scarba, in Argyll and Bute.
There are many small cruise boats, some converted fishing boats, operating in these waters, and this is a good way of getting a taster. One can join in as crew or sit back and let others work the boat, and cook, a choix.
Chris recommended we read "Sea Room" - an autobiographical tale set in uninhabited (other than the author, of course) islands off Lewis.
Chris certainly achieved his object with this evangelical talk. We began to understand his obsession, and few of us (even the more blasé of us) were left unmoved. The Western Isles are clearly a wonderful place to sail, and it is well worth facing the challenges posed by the intricacy and complexity of the coastline, the strong tides and the narrow channels. And facing challenges (up to a point!) is of course at the heart of what many of us enjoy about sailing...
RB
The music:
Beaches and skies - 'Magnus' Polska' – Jennifer & Hazel Wrigley
Churches, tombs and casstle - 'Farewell to Stromness' – Peter Maxwell Davies (original piano version played by the composer)
Birds and beasties - 'Folias'  (Falconiero) - L'Arpeggiata, Christina Pluhar
Entrance to Loch Moidart -  'Seven Songs Home: Tractor Ride' – Peter Maxwell Davies
Boats, lights and ferries - 'The Final Trawl' – Back of the Moon
Distilleries and sunsets - 'Hector the Hero' - Breabach
Back to CNYC for a third time, Tom both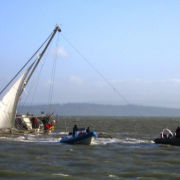 celebrated and lamented the astounding developments in navigation over his lifetime. It is to celebrate because knowing effortlessly where you are on the planet to within a few feet is of course remarkable and wonderful. But it has its pitfalls, and he wondered whether one will ever get the same satisfaction and understanding from "pushing buttons", as one used to get from using nous and skill to work out where you are, and which way to go - or, of course, not go.
We have, he ventured, become fixated on expectations of accuracy. Fishermen of the 1850s would never have seen a chart, and probably carried no compass. They could read the sea and the sky, and with the knowledge handed down to them by their forefathers and by judicious swinging of the lead, carrying tallow to pick up a bottom sample, they went about their business day after day in all weathers. Now, glued as we are to our phones, chart plotters and echo sounders, we think we always know, and always need to know, exactly where we are to within a cockpit's width.
With a sextant, a trailing log, and an accurate timepiece one can ascertain where one is on the planet to about a quarter of a mile. To many of today's sailors, that sounds hopelessly inaccurate. But to be within a quarter of mile is fine. We used to be proud to find we were within quarter of a mile of where we computed we were. We would then take a look out of the cockpit, check the echo sounder, take sights of landmarks or buoys and refine the fix.
Tom recounted a nice tale of navigating from Rio to Barbados, armed with a very large scale chart, a compass, a sextant, a Smith and Wesson .38 (don't ask) and a wristwatch. He was encouraged to make the voyage so ill-equipped as going back to jail in Rio was even less appealing than setting off. He had managed to write down the latitude and longitude of Barbados, and had a few pilotage notes. Unfortunately he lost the watch overboard somewhere, so lost any means of assessing his longitude. But this wasn't the catastrophe it might seem. He kept going until (by sextant) he was at the latitude of Barbados. Then all he had to do was turn left (obviously, as Africa was to the right) and sail the line of latitude until he spotted Barbados. Neat, eh! He didn't know where he actually was, but the key thing is: he didn't need to.
There are some real pitfalls awaiting the mindless user of GPS and chart plotters. One can easily mistype or misread the coordinates of a waypoint (especially if close to a whole degree of longitude, west of Greenwich). He told of a Yachmaster candidate who determinedly took him into the wrong estuary because of a waypoint error, despite all the visual evidence to the contrary. Another problem is that chart datum may not be right so although the GPS is accurately giving lat and long, it thinks the land is somewhere other than where it actually is, thus allowing a chart plotter to show you, with apparent great accuracy, approaching a harbour by road. Not to mention charts still based on century old surveys… Then there is the siren of the vector chart. The alternative, a raster chart, is a digitised paper chart so everything marked on the paper chart is there to see. But a vector chart is a database of things and their locations and the image is created for you by software. It doesn't show detail in a zoomed-out view. There wouldn't be room for all the symbols. And who zooms in on apparently empty bits of sea, all the way along a passage? Not enough of us do, apparently, and Tom is called as an expert witness from time to time when a navigator claims something he hit (like a reef) "wasn't on the chart". It depends, y'see, which chart one is talking about.
The answer? Buy and learn to use a sextant. Do the dead reckoning. And most important? Keep a logbook. By all means use the electronics but don't treat them as gospel, compelling though they are.
A salutary talk, and a great evening's education and entertainment.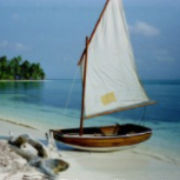 With a last-minute cancellation by our planned speaker the April meeting took on an unusual, impromptu flavour.
Dave Oakley opened with a song.
Frances Miller kicked of a "show and tell" session with a batch of unusual items she and James had found indispensible during their 15-year circumnavigation. They had been the world's most unsuccessful fishermen with line and lure, but, with a heavy duty magnet (that James had salvaged from a transformer) they had retrieved many tools and other metal items that had "thrown themselves over the side".
She went on to extol the virtues of "plastic-do-dahs": plastic caps, bottle stoppers, plugs and other small plastic or rubber items. Things we all throw away daily but that they hoarded. You never know when they might be just the thing to temporarily plug a fuel line, water piping or a hole in the deck. And a blocked gas jet can be cleared with a fine plastic price tag tie.
Salvaged telephone wire has many uses, number 8 fencing wire (on which the New Zealand economy was built, she claimed) is extremely useful stuff but a wire coat hanger makes a good substitute. Again, uses abound.
There's a thing called an Electrician's Mouse, also known as a Cable Draw Tape - great for feeding cable, inside a mast, say. A bamboo with a cup hook at one end might just retrieve a lost item, from a deep bilge; or capture a loose halyard before it disappears up the mast.
Her pièce de résistance was a diy repair trick using petrol and bits of expanded polystyrene foam. They'd learnt about a magic porridge-like stopping material from an elderly Cuna Indian they'd met off the Atlantic Coast of Panama - made by mashing the foam into petrol. With it he had expertly repaired his dug out canoe. Epoxy putty is great but we don't always have it to hand.  And who would have guessed that chewing gum will seal a diesel leak, something Frances discovered  by chance, a case of desperation leading to inspiration. The picture you see on the right is of Hollandes Cays, San Blas Islands. It is relevant - ask Frances if you're interested!
Frances concluded by telling us of the wonders of Australian Shade Cloth - a material similar to netting used by builders on scaffolding or at garden centres - a loose weave of polyethylene which blocks 95% of UV rays. It is very light, very easy to sew, comes in many attractive colours, and is easy to secure to guardrails with re-usable plastic butterfly clips.
Next up was Barnaby Scott who had that day received in the mail some strange-looking and curvaceous white plastic rudder fittings, manufactured for him using laser-sintering (3D printing as the hacks would call it), by a specialist company, to whom he'd sent a data file defining the shapes. These, reverently passed round and stroked, are the plugs from which moulds will be made for bronze casting. The really clever bit was to factor up the size from the computer modelling of the items by the amount of predicted shrinkage. High-tech or what!
Roger Backhaus (engineer at heart) reminded us that a while back one of our speakers had claimed that the most important contributor to sailing safety was the diesel engine. Whether or not one subscribes to that theory there is no doubt that to be in the running (!) the engine has to actually work. And a common reason for it not to is a failure in the cooling water pump. He encouraged us all to fit a clever bit of kit (Speedseal) that makes it significantly easier to maintain or repair these things, even in the dark in a lumpy sea (the usual conditions, akin to usually having to change a car wheel in the dark, in the rain).
Roger is also a fan of the eye-nut, and the eye-bolt. There are lots of nuts and bolts on a boat, and every one is a missed opportunity to replace one or both ends with an eye - to lead a line, or tie or shackle something to. It will be strong, in all likelihood, and avoids drilling another hole.
We ended with a heated discussion around how best to tuck in a mainsail reef on a Bermudian rigged boat, single-handed, with the wind astern, when big seas are running and turning into wind does not seem like a good idea. The question is one of those very good questions to which there are no very good answers…
Alistair and Carolyn Roberts
In a double act husband-and-wife sailors Alistair and Carolyn Roberts gave a memorable talk on their "memorable anchorages". Having sailed together for over 45 years, spent 279 nights at anchor during their circumnavigation, and 100 or more since, they had had a "self-indulgent" task selecting the most memorable few.
They'd picked places that stood out for their scenery, historic or local interest, remoteness or inaccessibility. One or two had personal significance (like a life-threatening incident following a diving trip).
Alistair was first off and his pick was in the remoter places: Caribbean, South Pacific and Australia. He started with evocative pictures of the reefs and turquoise seas of Tobago Cays (between Mayreau Island and Union Island in St Vincent and the Grenadines), before jumping us round to the classic coral atoll of Maupihaa in the South Pacific. Seldom visited, the wildlife there is unafraid of humans, and it is reminiscent of the Galapagos Islands. One is well rewarded for finding the place and successfully navigating the exciting and poorly marked narrow entrance. Finding it is a problem. Although there's not much doubt as to where it is, it is so low as to be below the horizon until you are right on top of it. There are a few trees, which come into view first. It was here that Alistair and Carolyn were given an oyster containing a black pearl, for which the local fishermen wanted a union jack in exchange. Not having one to hand, contact details were swapped and, with the wonders of modern communication, it was all sorted out later. After telling us about anchorages in the Society Islands, Bora Bora, Huahine, Tahiti, and Moorea, Alistair moved into panto mode with pictures of the monsters of the deep they'd encountered on diving trips, with an occasional "behind you!" caption… Thence to Lizard Island off Australia to hear about Cook's Look - the headland from which Captain Cook had scanned the great reef to try and see if he could spot a way out.
Carolyn talked of nearer, chillier anchorages - of Scotland and Ireland. Here tides can be fierce and periods of clement weather short. Anchoring is often about finding shelter where one can, and being glad to be there, with the magic of the scenery a bonus. Lovely Eriboll in North Scotland is a fine place to await a window in the weather to tackle notorious Cape Wrath. Apart from having to do some extremely clever weighting down of a lobster pot line they'd snagged (criss-crossing it with anchor chain) the Cape Wrath passage was, in the event, atraumatic. Another anchorage that had stuck firmly in Carolyn's mind was at Inishmore of the Aran Islands, a place they'd visited during a circumnavigation of Ireland. Stunning in its desolation, it is bleak, unearthly and barely cultivable. Carolyn finished the talk with views of the blossom-laden pathways of St. Agnes on the Isles of Scilly, to remind us that that one doesn't necessarily have to travel far from home to find those memorable places.
We were transported.
Fresh gravel had been laid to the drive.
Furniture had been made, allegedly, for the event. The marquee had been dressed overall, with courtesy flags for far-flung nations, and with a 'Q' flag (to save you landlubbers having to look it up, hoisting the "Q" requests "Free Pratique ". Now you know.) The bread, both 7 seed sourdough and straight sourdough, had been collected from Daylesford. But no man lives by bread alone, not even by Daylesford bread. So Iron Down Farm ewes had been counselled and their lambs led to the slaughter and cleaver. Chadlington Quality Foods had broken the eggs and made the quiches. Waitrose had confected the lemon tarts. Mint had been torn and limes squeezed for the punch. Salads had been chopped and tossed. The BBQ had been fired up and the marinated lamb carefully seared.
Logs smouldered through to nightfall in an iron fire bowl.
OTT or what? Not a bit of it. This was CNYC's summer barbecue, after all, and we do have standards to maintain.
It put in mind the opening chapter of Riddle of the Sands. Carruthers, one of our two young heroes is, in 1903, doomed to "the utter solitude of London in summer", out of the London season, when everyone else of any importance has left for parties in the country. The plot starts with him receiving an invitation to join a friend on The Dulcibella on a daring spy mission in the Frisians. For us with our interest in boats and the sea June is the time when we too, the left-behinders, may feel marooned in Oxfordshire, in the wrong place at the wrong time. We were reduced to finding solace in each other's company, which the 30 of us gathered in Chadlington that June evening indeed did.
A visit was made after supper to the workshop to admire the now very nearly complete 30 foot sharpie Luely, an Iain Oughtred Haiku, in our host's workshop.
A good time, as far as I could tell, was had by all
CNYC members always maintain a
keen sense of competition.  This was proved, once again, at the July gathering, when members, Liz and Paul Spencer, hosted a bring-and-share supper at their beautiful own-build home in Chipping Norton.  To add a certain zest to the evening, Paul, himself a dedicated 'petrol-head', threw an 'all-comers' challenge to his guests to prove themselves, or otherwise, on his Scalextric track – a permanent feature in Liz and Paul's garden summerhouse.  So, in the convenient break between main course and dessert, Paul organised us into a knockout, with the fastest car to 20 laps around the twists and turns of the track, being the winner of each heat.  Finally, we were down to the two heat champions, and Helen Reilly and Phil Levermore went head-to-head in a simple race to the finish.  Despite the contestants swapping cars halfway through, Helen built-up an impressive lead and stormed across the finish line to receive, both a bottle of single malt and, more importantly of course, the winner's laurels.
Afterwards we retired back to the house where Liz provided us with generous portions of her famous Eton Mess.  Tales of summer sailing were shared until late in the evening over a glass, or several.
Our September talk, held at the Chippy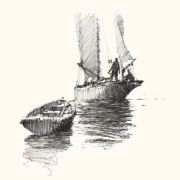 Chequers, was given by writer, raconteur and Yachting Monthly's editor-at-large Dick Durham, on a topic that has fascinated yachties and historians for years. Was Erskine Childers' pre-WW1 classic spy thriller The Riddle of the Sands just a novel, or was it a warning about a real threat of invasion from the Kaiser's Germany, across the North Sea?
For historical context Dick reminded us that the work is set in the age of Empire when Victoria was on the throne and Britain ruled the waves. A different age indeed, in the run up to WW1.
Dick's talk 'A Voyage Between Empires' examined the fact and the fiction, drawing on both his field research, undertaken with artist Martyn Mackrill; and three years of research by Maldwin Drummond (published in his book "The Riddle", now in its second edition).
The boat Dulcibella of the novel was very like Childers own and very real boat, the Vixen (later renamed Dulcibella) in which Childers cruised the area. Vixen was a converted and stretched lifeboat (the Thomas Chapman). It is also clear that the leading characters of the novel were based on real and identifiable people.
Dick peppered his talk with convincing voices. Churchill figured. So did the Kaiser. Churchill certainly knew the book and it does not seem to be much of a stretch to think that our defence policies were coloured by it.
Childers later in life became very anti-English and joined Sinn Féin, and was convicted of gun-running and shot, on a trumped-up charge, during the Irish Civil War, having been given a hand gun for self-defence...
Even those of us who know the book intimately learnt something new, and we were further drawn into this classic mystery. As well as showing us pictures of the seas, sandbanks, watersheds, and islands where the book is set, Dick showed us some evocative drawings and paintings by Martyn Mackrill depicting scenes from the novel. His work is on sale from Messum's gallery in Mayfair.
Yet another fascinating evening, in good company.
The Boat they laughed at!
Max was introduced as being "one of a
 kind" whatever that means. He said he felt very much at home here with us, whatever that meant.
Max soon had us laughing. His talk was indeed a hoot. But here was a man who clearly knew exactly what he was doing, and what he and his boat were capable of. So although the account was hilarious (and thanks Max for that quick and assured answer as to why we could see a sink plunger, in pride of place, in the cockpit) this was an admirable and inspiring story of good planning, courage and competence. Max'd been a trawler skipper, knew his way round boats and the sea, and nothing seemed to have fazed him.
Max crossed the big pond by accident. He needed somewhere to live and, short of funds, acquired, for the princely sum of £1500, a heavyweight 42 ft ferro-cement schooner as a houseboat. "Gloria" really didn't look like she was ever going anywhere, and if she did the rust-streaked hull and air of dilapidation might prejudice much of a welcome anywhere in the civilised world. But events, dear boy, events....
Fellow members of the Thurrock Yacht Club, of which Max was a member, laughed when they saw Gloria, prompting Max to defend her with a throwaway riposte to the effect that one day he'd sail her across the Atlantic. Ah well, we've all said something thoughtlessly at some point, that proved prophetic..
Max looses his job and Gloria's berth became unaffordable. He has a friend who has done the Atlantic a few times but only in fast boats ("spinnaker runs") and is keen to tackle it in something slower, and you don't get much slower than Gloria. The friend, once RYA's deputy secretary general, is time short, and challenges Max to get the boat to the Canaries in Nov., where he'll join. Gauntlet stuff.
The boat leaked (20 minutes pumping an hour and worsening as the Essex mud was rinsed out of the hole it had plugged at the outset), the oil pressure was on the floor (and higher viscosity oil did nothing helpful, and lack of funds precluded repair, let alone replacement).
Max had the usual problems with immigration officialdom on some Caribbean islands, seemingly in trouble for not having his own biro, and alerting suspicion by not carrying a gun. Asked later about guns, Max thoughtfully suggested that there's not a lot of point in pointing a gun at someone unless one is prepared to use it, which requires a level of ruthlessness he doesn't posses. A member of the audience suggested, in extremely diplomatic language, that perhaps Gloria did not obviously present as the most tempting a target for piracy?
The return Max did solo - having planned the passage and watched the weather extremely carefully to ensure the engine-less Gloria would get enough Easting to escape the Caribbean and not end up in New York. It took 53 lonely days...
One of the most humorous, entertaining and inspirational talks we've heard. For the full story of the crossing read  "The Boat They Laughed At". Perhaps Max could be persuaded to return one day to tell us about his subsequent crossing, in a Trapper 500?
Norway: land, sea and air
Rear Commodore Hugh Woodsend know
Norway well. He's been there countless times. He's buzzed about the mountains at zero feet and performed air displays as a development test pilot in command of an F104 Starfighter or F16; he's made yacht or gin palace deliveries; and he's enjoyed cruises there after yacht races.
This year, in March, he let someone else take the strain when he and his wife went on a sea excursion from Dover to Alta in the north and back, calling at many of the ports along the way. The boat was Fred Olsen Line's 23,000 ton Braemar - quite a small ship by modern liner standards, but luxurious. They were extremely well watered, fed and entertained.
Hugh being Hugh he was no idle passenger but kept a keen professional watch on everything - by eye, ear, vhf, AIS, chart plotter and (several) cameras. He observed, commented on and recorded the voyage both from a passenger's perspective and from the perspective of a man who holds a commercial licence himself, for vessels up to 2000 tons. He's made a film of the whole trip and he dived in and out of this throughout the talk.
Hugh interspersed clips from the film with comments, pictures, chartplotter screen grabs, and the sounds of their cruise liner as it navigated (mostly but not always with ease) the tricky fjords and coastline of Norway. Norway has a long coastline, of 1000 miles or so - and a very long history, which included a long period in the Kalmar Union in which Denmark, Sweden (then including parts of Finland) and Norway all operated under a common monarch. And then there was a "Swexit" in the 16 C….
The omnipresent trolls tried hard to mar the trip but only, as it turned out, provided some excitements. Weather was good on the whole but winds of 30-40kts were common, with one interesting moment when the ship was caught in irons in high winds, and unable to turn in Bodo harbour.
They sailed through amazing snow-covered fjords, one of which was home to the Tirpitz battleship in WW2 where it was damaged by midget submarines. In Alta they visited the Ice Hotel, the 18th year this has been built, each year from scratch, and the following day had great fun husky dog sledding through the magical scenery. On the way southwards they travelled on the Rauma railway up to Borli, one of the world's most scenic railways. They took in the "Arctic Circle Stone", the mountain range known as the "Seven Sisters"; and the mountain with a with a hole in it at Torghatten.
The return voyage from Stavanger to Dover was in almost perfect conditions…. the trolls sleeping, no doubt.
Will they return to Norway? The 2018 trip is already booked. Will Hugh return for another talk to us? We hope so!