Chipping Norton Yacht Club Current Committee
PAUL WALKER
Commodore & Secretary 
Sailing
Started sailing aged 10 and continued ever since, predominantly dinghy racing – Scorpion, Fireballs, 5o5s & RS400s. Big boat racing helming Swans.
Owned a 24' Broads racer circa 1906, Cornish Shrimper, Feeling 306, a Red Fox and currently a Sun Odyssey 349 based in Plymouth.
Committee member of AYC and DWSC.
Coastal Skipper/Yachtmaster
Non-Sailing life
Automotive Engineering for 43 years.
Now semi-retired but started a picture framing business.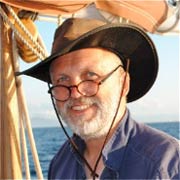 BARNABY SCOTT
Rear Commodore (Speakers Organiser)
Sailing
Enjoy navigating the waters of the Solway Firth, and Greece when I yearn for more sun and less mud
Own a 16′ Willow Bay Shilling and a 32′ gaff-rigged trehantiri (τρεχαντήρι), a traditional Greek type)
Have finally finished building and launched an Iain Oughtred Haiku
Non-Sailing life
Designer/maker of furniture (see Waywood)
PETER MILLER
Rear Commodore (Treasurer)
Sailing
Mostly on Lake Ontario, Canada with a few cruises in the Caribbean
Owned a CS 30 which I raced in club races at Ashbridge's Bay Yacht Club and in open races on Lake Ontario until 15 years ago
Happily, CNYC now provides me surrogate sailing experience
Non-Sailing Life
10 years a GP in the UK and Canada
Followed this with career as medical director at several life and health insurance companies in Canada, US, Switzerland and the UK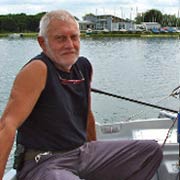 ROGER BACKHAUS
Rear Commodore
Sailing
East Coast, Caribbean, Portugal, latterly mostly Netherlands (belong to Dutch club and keep boat there);

Owned a Macwester, a Fairey Atalanta, a Winkle Brig gaffer a composite (strip-plank epoxy) Selway Fisher Beaumaris 24 lug yawl, and now a Yarmouth 23 gaffer;

Interested in traditional rigs and their tweaking and handling;

Coastal Skipper/Yachtmaster
Non-Sailing Life
Engineering, IT and finance
Escaped corporate life with retirement from Shell International, after several public and private sector jobs.
CLIVE KEEBLE
Rear Commodore (Marketing)
Sailing
Started sailing in my teens crewing on a GP14, then moved on to lasers.
Took a year off work to sail from Rainham in Kent to Malta via the French canal system in a 21' Van der Stat sloop called Spurn.
Took part in a Fastnet Challenge sailing the race course in October. Gales on the way out and a storm on the way back made for interesting sailing! Raised over £6,000 for a local hospice in the process.
Now chartering when we can in the Med and BVI.
Non-sailing Life
Retired Business and Marketing consultant.
Currently serving as a school governor.
Keen golfer.
PAUL CLARK
Rear Commodore (Webmaster)
Sailing
Started sailing as a young man crewing for a friend on their racing yacht tearing around Sydney Harbour.
Returned to UK but didn't sail again for 30 years. Crewed for another friend a few times and caught the bug again. Bought a third share in a 37' Bavaria.
Been sailing around Europe and mainly UK south coast since.
Non-Sailing life
Retired Graphic Designer.
Rarely stop drawing or painting.