Chipping Norton Yacht Club Current Committee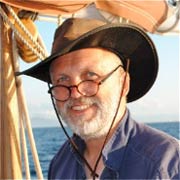 BARNABY SCOTT
Commodore
Sailing
Enjoy navigating the waters of the Solway Firth, and Greece when I yearn for more sun and less mud
Own a 16′ Willow Bay Shilling and a 32′ gaff-rigged trehantiri (τρεχαντήρι), a traditional Greek type)
Have finally finished building and launched an Iain Oughtred Haiku
Non-Sailing life
Designer/maker of furniture (see Waywood)
PAUL WALKER
Rear Commodore (Secretary)
Sailing
Started sailing aged 10 and continued ever since, predominantly dinghy racing – Scorpion, Fireballs, 5o5s & RS400s. Big boat racing helming Swans.
Owned a 24' Broads racer circa 1906, Cornish Shrimper, Feeling 306, a Red Fox and currently a Sun Odyssey 349 based in Plymouth.
Committee member of AYC and DWSC.
Coastal Skipper/Yachtmaster
Non-Sailing life
Automotive Engineering for 43 years.
Now semi-retired but started a picture framing business.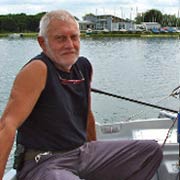 ROGER BACKHAUS
Rear Commodore (Treasurer)
Sailing
East Coast, Caribbean, Portugal, latterly mostly Netherlands (belong to Dutch club and keep boat there);

Owned a Macwester, a Fairey Atalanta, a Winkle Brig gaffer a composite (strip-plank epoxy) Selway Fisher Beaumaris 24 lug yawl, and now a Yarmouth 23 gaffer;

Interested in traditional rigs and their tweaking and handling;

Coastal Skipper/Yachtmaster
Non-Sailing Life
Engineering, IT and finance
Escaped corporate life with retirement from Shell International, after several public and private sector jobs.
HELEN REILLY
Rear Commodore (Membership Secretary)
Sailing
In the process of buying a Nicholson 31 called Shalom whom I'm hoping will live up to its name. The "peace and harmony" bit not necessarily the "goodbye" part. Home will be Weirquay, up the Tamar in Devon

Used to sail a Drascombe Lugger. Best bit was sailing the Dutch/German Wadden Islands with other Drascombe luggerites.


Before that I was a (very) novice 1st mate on Mairi Sona, a 3o foot Kingfisher which took me to Brazil and back in 1996/97. Then lots of weekend sailing in a Nicholson 26 in Weirquay. So it seems I have gone full circle.
Non-Sailing Life
Art editor for OUP and other educational publishers working on school textbooks (Arnos Design Ltd)
Enjoy hiking, cycling and swimming in freezing cold sea water-preferably Donegal ...but anywhere will do!
DAVE OAKLEY
Rear Commodore (Speakers Organiser)
Sailing
Began sailing at the age of 5.
Crossed Biscay at the age of 10 and was horribly seasick.
Sailed to Brazil and back in 1996.
I've owned various boats over the years including a Kingfisher 30, a Nicholson 26, a Wayfarer and a couple of Drascombes. I'm in the process of buying another Nicholson at the moment.
Non-Sailing life
Graphic Designer for children's educational material and corporate publicity brochures.
The rest of the time I'm a struggling singer songwriter.
FRANCES MILLER
Rear Commodore (Meetings Coordinator)
Sailing
Early sailing, as a child, in my uncle's 16′ gunter rigged dinghy on the Deben.

Sailed and raced GP14 dinghies in Tripoli Harbour, Libya during the early 1960s.

1983-2000: a very slow circumnavigation with my partner, James, in our 35′ ferro-concrete Endurance ketch.


More recently, cruising the Balearics and the Canal du Midi in our 35′ Dutch steel motor cruiser.
Non-sailing Life
Interested in all things maritime and much else besides.
PAUL CLARK
Rear Commodore (Webmaster)
Sailing
Started sailing as a young man crewing for a friend on their racing yacht tearing around Sydney Harbour.
Returned to UK but didn't sail again for 30 years. Crewed for another friend a few times and caught the bug again. Bought a third share in a 37' Bavaria.
Been sailing around Europe and mainly UK south coast since.
Non-Sailing life
Retired Graphic Designer.
Rarely stop drawing or painting.